Public Engagement
Public engagement is an integral part of our activity. We run activities that aim to inspire, inform and educate the public. These include hosting visits from local schools, participating in festivals and events, delivering practical workshops at schools, and public talks, among others.
DevNeuro Academy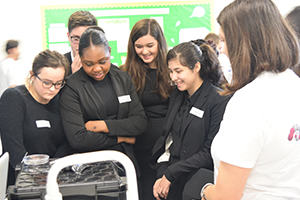 The DevNeuro Academy Widening Participation project consists of a regular programme of activities designed to improve the progression and success of students currently under-represented at our university and other institutes of higher education. The project combines a series of four in-school interactive 'Discovery workshops' with a 2-week laboratory summer research work experience in our Department.
More details
Glow in the Dark Science
This project introduces primary school children to science in a playful manner. Through a series of interactive activities around the use of fluorescence in modern biomedical sciences, the pupils can begin to develop their scientific knowledge. The project is based on activity stations where the pupils learn the basis of how fluorescence works and observe fluorescently labelled fish and fruit flies, among others.
More details
Work Experience
Work experience is a great opportunity to work alongside researchers and learn several of the fundamental and cutting edge techniques that the scientists in our Centre use to study the development of the brain. We host a number of A-level or equivalent students throughout the year and we welcome prospective applications at all times.
More details
Want to Visit Us?
We welcome prospective students, school groups and teachers to Department. The visits last approximately two hours and include a presentation by a member of staff and a tour of the laboratories and research facilities. More details in how to book a visit for a school/college or university group.
More details