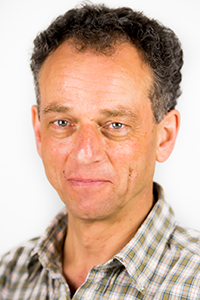 Uwe Drescher
Professor of Molecular Neurobiology, Group Leader
Biography:
Uwe Drescher was born in Germany in 1959. He graduated in Biology and Biochemistry at the University of Heidelberg (Germany) in 1986, where he also obtained his Doctoral Degree in 1990 with P. Gruss. He subsequently joined the University of Zurich (Switzerland) as a postdoctoral fellow in the laboratory of H. Möhler. In 1991, he took a group leader position at the Max-Planck-Institute for Developmental Biology (Tübingen, Germany) in the Department of Friedrich Bonhoeffer. In 2000, he took a Senior Lecturer position at the MRC Centre for Developmental Neurobiology, where he was appointed to a Professor for Molecular Neurobiology in 2007.
Uwe Drescher is member of the Faculty1000 for Developmental Neurobiology, committee member of the French ANR, and co-organizes the bi-annual meeting of the 'Molecular mechanisms of brain wiring' currently held at the IST (Vienna).
Links:
Thompson Reuters Researcher ID:
C-5438-2009
KCL PURE:
https://kclpure.kcl.ac.uk/portal/uwe.drescher.html
All publications:
Publications:44height:768 width:320 offset:0 max_pages:4 page:1 limit:11 type:4 key_only:0 num_rows:Array ( [0] => 0 )
2020
2017
2014
Suetterlin P, Drescher U
(2014)
Target-independent ephrina/EphA-mediated axon-axon repulsion as a novel element in retinocollicular mapping.
Neuron
84: 740-52
2013
2011
2010
2008
Plachez C, Andrews W, Liapi A, Knoell B, Drescher U, Mankoo B, Zhe L, Mambetisaeva E, Annan A, Bannister L, Parnavelas JG, Richards LJ, Sundaresan V
(2008)
Robos are required for the correct targeting of retinal ganglion cell axons in the visual pathway of the brain.
Mol Cell Neurosci
37: 719-30
2006
2005
2004
Knöll B, Drescher U
(2004)
Src family kinases are involved in EphA receptor-mediated retinal axon guidance.
J Neurosci
24: 6248-57