Eugene Makeyev
Professor, Group Leader
Biography:
Eugene Makeyev was born in Kursk, Russia and graduated from Lomonosov Moscow State University and Institute of Protein Research, Russia. He obtained his Ph.D. degree at the University of Helsinki, Finland in 2001 and was subsequently a postdoc in Tom Maniatis's laboratory at Harvard University, USA. In 2008, he started his own group at the School of Biological Sciences, NTU, Singapore. He moved to Department of Developmental Neurobiology, KCL in 2013. Eugene's awards and recognitions include Helsinki Biocenter Prize for the Best Ph.D. Thesis (2001), Helsinki University Docentship (2003), Leukemia and Lymphoma Society Career Development Award (2004), and Singapore National Research Foundation Fellowship (2008).
Links:
KCL PURE:
https://kclpure.kcl.ac.uk/portal/eugene.makeyev.html
Related News: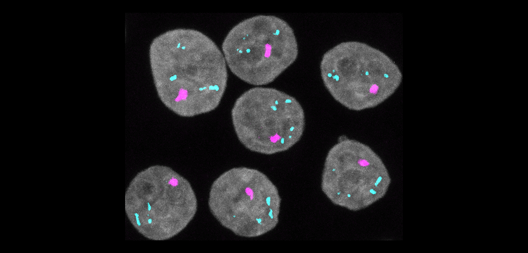 All publications:
Publications:24height:768 width:320 offset:0 max_pages:3 page:1 limit:9 type:4 key_only:0 num_rows:Array ( [0] => 0 )
2020
Kainov YA, Makeyev EV
(2020)
A transcriptome-wide antitermination mechanism sustaining identity of embryonic stem cells.
Nat Commun
11: 361
2019
Cai P, Li Z, Keneth ES, Wang L, Wan C, Jiang Y, Hu B, Wu YL, Wang S, Lim CT, Makeyev EV, Magdassi S, Chen X
(2019)
Differential Homeostasis of Sessile and Pendant Epithelium Reconstituted in a 3D-Printed "GeminiChip".
Adv Mater
31: e1900514
2018
Ehsan M, Kelly M, Hooper C, Yavari A, Beglov J, Bellahcene M, Ghataorhe K, Poloni G, Goel A, Kyriakou T, Fleischanderl K, Ehler E, Makeyev E, Lange S, Ashrafian H, Redwood C, Davies B, Watkins H, Gehmlich K
(2018)
Mutant Muscle LIM Protein C58G causes cardiomyopathy through protein depletion.
J Mol Cell Cardiol
121: 287-296
2017
Hamid FM, Makeyev EV
(2017)
A mechanism underlying position-specific regulation of alternative splicing.
Nucleic Acids Res
45: 12455-12468