Rita Sousa-Nunes
Lecturer in Developmental Biology, Group Leader
Related News: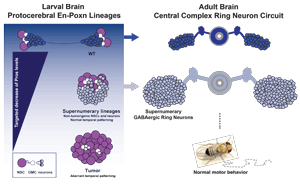 All publications:
Publications:13height:768 width:320 offset:0 max_pages:2 page:2 limit:9 type:4 key_only:0 num_rows:Array ( [0] => 0 )
2009
Sousa-Nunes R, Chia W, Somers WG
(2009)
Protein phosphatase 4 mediates localization of the Miranda complex during Drosophila neuroblast asymmetric divisions.
Genes Dev
23: 359-72
2006
2003
Sousa-Nunes R, Rana AA, Kettleborough R, Brickman JM, Clements M, Forrest A, Grimmond S, Avner P, Smith JC, Dunwoodie SL, Beddington RS
(2003)
Characterizing embryonic gene expression patterns in the mouse using nonredundant sequence-based selection.
Genome Res
13: 2609-20
2001
Avner P, Bruls T, Poras I, Eley L, Gas S, Ruiz P, Wiles MV, Sousa-Nunes R, Kettleborough R, Rana A, Morissette J, Bentley L, Goldsworthy M, Haynes A, Herbert E, Southam L, Lehrach H, Weissenbach J, Manenti G, Rodriguez-Tome P, Beddington R, Dunwoodie S, C
(2001)
A radiation hybrid transcript map of the mouse genome.
Nat Genet
29: 194-200
2000