Alumnus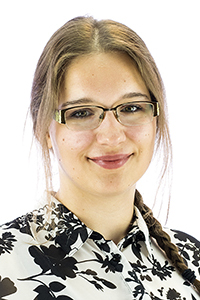 Michalina Hanzel
PhD Student
Biography:
I have studied Biomedical Sciences at UCL before starting my MRes/PhD studies at King's College London in the Department of Developmental Neurobiology. During my undergraduate studies I worked in Steve Wilson and Nikoletta Kesaris labs.
Currently, I work in Richard Wingate's lab, studying the developmental of cerebellar granule cells. My research interests revolve around the balance between proliferation and differentiation in the brain. During my PhD I visited Mary Beth Hatten lab in Rockefeller University for two months and attended various conferences and courses, including the developmental neurobiology course in Okinawa, Japan.
I am a PhD representative and a secretary for Neureka seminar series. I am also involved in a number of outreach activities, including the DevNeuro Academy.
Links:
KCL PURE:
https://kclpure.kcl.ac.uk/portal/en/persons/michalina-hanzel%286e117057-36ef-437e-8188-9af4ad82121e%29/publications.html?type=%2Fdk%2Fatira%2Fpure%2Fresearchoutput%2Fresearchoutputtypes%2Fcontributiontojournal
Research Gate:
https://www.researchgate.net/profile/Michalina_Hanzel
Selected publications:
Publications:3height:1080 width:1920 offset:0 max_pages:1 page:1 limit:7 type:4 key_only:1 num_rows:Array ( [0] => 0 )
Hanzel M, Rook V, Wingate RJT
(2019)
Mitotic granule cell precursors undergo highly dynamic morphological transitions throughout the external germinal layer of the chick cerebellum.
Sci Rep
9: 15218
Hanzel M, Wingate RJ, Butts T
(2015)
Ex Vivo Culture of Chick Cerebellar Slices and Spatially Targeted Electroporation of Granule Cell Precursors.
J Vis Exp
106: e53421
Butts T, Hanzel M, Wingate RJ
(2014)
Transit amplification in the amniote cerebellum evolved via a heterochronic shift in NeuroD1 expression.
Development
141: 2791-5